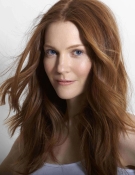 Darby
Stanchfield
Actor
"As a proud member of Feeding America's Entertainment Council, I strongly support their non-partisan mission of love and the ending of hunger right here at home."
Darby Stanchfield currently stars on ABC's hit show SCANDAL, which will end it's 7th and final season in the Spring of 2018. Stanchfield has played Abby Whelan, a series regular role that originated during the SCANDAL pilot. Her role Abby Whelan has ranged in 7 seasons from a feisty, intelligent WA DC investigator, right hand to Olivia Pope's fixer team, to President Fitzgerald Grant III Press Secretary and Chief of Staff of the White House. Prior to Scandal, Stanchfield has garnered the small screen with recurring roles as Helen Bishop, the forward-thinking divorce' on MAD MEN; Rick Castle's (Nathan Fillion's) troublemaking ex-wife Meredith on CASTLE; Jethro Gibbs' (Mark Harmon's) first and only love, Shannon Gibbs on NCIS; and April Green, salt-of-the-earth town doctor on JERICHO. She has also guest starred on many other TV shows including How I Met Your Mother, CSI: Miami, CSI: NY, Burn Notice, 24, Without A Trace, Private Practice, etc. Stanchfield has also starred in a variety of indie films, 2 of which garnered attention at Sundance: WAITRESS, and CARNAGE PARK.
Stanchfield stepped behind the camera in 2017, in her directorial debut of a 6 part digital series, GLADIATOR WANTED, a web series that she also pitched and helped develop, that lives permanently on ABC's official Scandal website. In the final season of SCANDAL, Stanchfield will direct an episode, marking her first directorial gig of episodic television.
Stanchfield has a Masters of Fine Arts from The American Conservatory Theatre and has several years experience in performing in various theatre roles. Stanchfield has also acted in over a hundred national commercials in her earlier years in her career in LA. She was born and raised in Alaska, where her father was a commercial fisherman.