Pampered Chef® realizes that its shared mealtime mission is not a reality for all people. With a desire to set a place at the table for everyone, their Round-Up from the Heart® campaign is offering two ways to help:
Each year, Pampered Chef introduces a limited-edition product to help raise funds for Feeding America®. Starting September 1, 2018, Pampered Chef is offering a Kitchen Paring Knife. For each Kitchen Paring Knife or Set purchased from September 1, 2018-February 28, 2019, the company will donate $0.30, the equivalent of 3 meals*, to Feeding America.

Pampered Chef also encourages Cooking Show guests to "round up" their orders to the nearest dollar or more. These contributions benefit the Feeding America network food bank that serves the local community where the donation is made.
To learn more, visit http://new.pamperedchef.com/cg-round-up.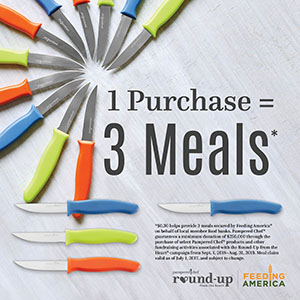 *$1 helps provide at least 10 meals secured by Feeding America on behalf of local member food banks. Pampered Chef guarantees a minimum donation of $250,000 through the purchase of select Pampered Chef product and other fundraising activities associated with the Round-Up from the Heart campaign from September 1, 2018-August 31, 2019. Meal claims valid as of July 1, 2017.